Sound Therapy
Welcome to Sound Therapy!
Pikes Peak Wellness offers 2 amazingly powerful sound and vibrational therapies for our clients!
Sound therapy and vibrational therapy is a proven method to help get rid of pain, stress, tension, anxiety and depression. The use of sound and vibrations on the body is a powerful and effective way to heal both mentally and physically.
Benefits of Sound Therapy
Sound has proven to have healing effects on the mind as well as the body. A sound bath session can lead to reduced anxiety levels, tension, and sadness as well as diminished pain. Research into this subject is limited, but there have been studies that indicate a sound bath may improve your mood and release tension in your body, among other things
Check out our sound therapy options and book one today!
Meditation & Relaxation Sound Bath Group Session:
Join Pikes Peak Wellness for our amazing relaxation Sound Bath! Bathe yourself in the healing effects of sound!
What you need to know: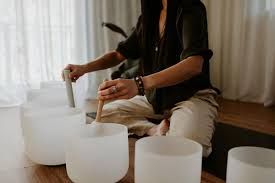 During a sound bath you don't need to do anything. Don't bring anything, silence your phones, and lay down on a provided yoga mat. We place a warm towel over your eyes which contains your choice of essentials oils - eucalyptus, tea tree, lavender, or lemon grass. You also have your choice to be wrapped in a weighted blanket which helps to comfort the body. The rest of the hour you remain laying down listening to and feeling the sounds and vibrations of the powerful sound bowls.
Class Schedule:

Classes are held Wednesdays at 6pm and Saturdays at 12pm at Pikes Peak Wellness. Reservations prior to class are required as space is limited to 6 people. Children under 14 are not permitted to attend classes, though you may schedule a private or couple's session for them. Children 14 to 17 must be accompanied by an adult. The cost for classes is $30 per person. Private or couple's sessions are offered Monday through Friday 10am to 6pm at $40 per person/hour.
Start your amazing sound bath journey by calling or texting 719-229-5504 or book a class online